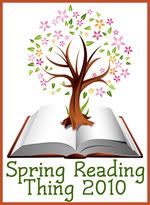 I found out about this the way I find out about most things... I stumbled upon it. Being the huge reader that I am, I decided to play along and thought some of you might want to as well. Here's my list for spring:

1. Keep reading books to consider for She Reads. (Top secret as to what those are!) As the director of She Reads I am constantly looking at and considering titles for our selections. The arrival of novels at our house has become commonplace and we are having to get really selective about what books we even ask for. At first our eyes were bigger than our stomachs, so to speak as we wanted to devour (just going with the metaphor here) all the potential books out there. That, we've learned, is simply not possible. My co-director and I have now recruited some of the P31 ladies to serve as a selections committee just to help us read and weigh in with their opinions. That's already been extremely helpful... a relief! But suffice it to say there are a lot of really good Christian fiction authors and titles out there. We choose the best of the best and we want to consistently pick titles you all enjoy so you will rely on us as the go-to place for the novels you buy. That's our goal.
2. Read secular fiction titles that are by my favorite authors. Beside my bed right now is House Rules by Jodi Picoult, and a new fiction author I connected with last week, Sarah Pekkanen's debut novel, The Opposite of Me. I am excited about these titles. On my library hold list is The Wife's Tale by Lori Lansens, and Love In Mid Air by Kim Wright Wiley (she lives in my town so that means I have to read her novel... it's required)

3. Read writing books. On my "To Be Read" shelf are the following: The Art of War for Writers by James Scott Bell, The Anatomy of Story by John Truby, No More Rejections by Alice Orr, Writing Fiction for Dummies by Randy Ingermanson, and The Maeve Binchy Writer's Club by-- you guessed it-- Maeve Binchy.
4. As for what I want to read with my kids, I am on a kick of going back and re-reading all the favorites from when my older three were little to my younger three. There's no reason they should miss out on the things we loved. Our all-time favorite book is The Seven Silly Eaters by Mary Ann Hoberman. Also Patricia MacLachlan's All The Places To Love and What You Know First.
5. Finally under the nonfiction category, I have Beth Moore's newest, So Long Insecurity, You've Been A Bad Friend To Us and a memoir entitled Making Toast: A Family Story on my list.

If you are looking for some great recommendations on books to read, be sure and check out She Reads. We choose a selection a month and provide interviews with the authors, recipes to go with the book in case you want to start a book club and cook something to share with the group, activities or games for book club meetings, guest posts from the authors, etc. If you love novels then this is the place for you!
Many people ask me how I find time to read. They want to read but can't figure out how to squeeze it in. I will say that there are two places I get my reading done: on the treadmill and at night before bed. I can get a whole lot of reading done if I spend 40 minutes on the treadmill reading and then read an hour or more at night. Note: this means I do not watch much tv. I also will grab a book and sit on the couch with my kids, reading while they are watching their kid shows. I can tune those out and enjoy the story I am reading, yet still be with them. I don't do that unless I am really into a book, mind you.



And finally, a shameless plug for my own book, The Mailbox, which will be out within the designated time of the Spring Reading Thing (June 1, 2010). So please, I humbly beg you to BUY THIS BOOK!! I am going through final edits on it right now and it really is a good beach read. Plan to take it with you to the pool or the beach and enjoy the story of Lindsey, a divorced mom of two who has faithfully visited the Kindred Spirit mailbox (a real landmark on the coast of NC) every year since she was 15. As she returns for the 20th year, she runs into Campbell, the guy who first took her to the mailbox... and ended up breaking her heart. Will Campbell and Lindsey get a second chance? And what does the mailbox have to do with it? You have to read to find out...