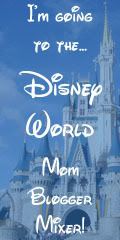 You may have noticed that I added yet another blogroll. This one will include the wonderful ladies who will be participating in a very special weekend event. Several of us found each other yesterday and decided to connect via each other's blogs and websites to create some sort of network. Thanks to
Shari
for giving me the initial tip that sent me clicking from
one blog
to the next, scouring out the participants for this most exciting adventure.
Remember when I wrote about how last Wednesday was one of the greatest days I have had in awhile? Well, last Wednesday out of the blue I got contacted by someone at Disney inviting me (little ole me!) to participate in the first annual Disney Mom Blogger Mixer-- a weekend of fun and relaxation just for moms. No kidding, I wrote back and asked if this was a hoax. Things like this, I thought, just don't happen to me. She wrote back with assurance that it was not a hoax and that I would be contacted with details soon. Sure enough, within hours I was contacted by a travel rep who arranged my flight and a letter welcoming me to the event. This weekend is an all-expenses paid time to check out what Disney has to offer families and to let Disney find out how they can reach their audience through moms who blog.
It sounds to me like blogs are being noticed as wonderful tools of communication more than ever!
One article I read recently
said that blogs are like talking to a neighbor over the back fence-- hearing what products really work, what books are really good, what movies are worth seeing, what vacation spots are worth the money. I know that most of my information about what's going on in the world comes from the blogs I frequent. Most all the books I read were recommended on someone's blog. Disney recognizes that power and, apparently, is willing to invest in it.
We will be staying on the property in the beach resort with our own rooms. We will be welcomed with a special reception and the letter I received said they are still putting the finishing touches on an exciting itinerary focused on the best of what Disney has to offer. All of us moms agreed yesterday in a flurry of emails that we're all about the time alone, the shopping, and the food. Everything else is just a bonus!
For a few days this week, as I was in the pit of despair (anyone ever seen The Princess Bride?), I really thought about not going. The trip is April 18-20. By all accounts, I will probably still be hobbling around in a boot. Who wants to do Disney in an ugly stormtrooper boot? I want to run and frolic-- not stagger and slow my group down. And, after all, I don't know these people. Why in the world would they tolerate a cripple in their midst? Yesterday they assured me that they still want me to come. Stephanie from
Adventures In Babywearing
says that she was worried she would be a party-pooper because she is pregnant. She assured me we could hang out and be slow together. After hearing from these girls and seeing their passion for blogging and motherhood combined, I know that I have found some new friends that I am going to have a blast with at Disney.
If you are coming and are not listed in my blogroll, leave me a comment with a link to your blog so I can add you. Through the power of the internet, we are slowly but surely finding each other! Ladybug and Her Blogging Mama has also started a Mr. Linky to help us connect. (She also designed the adorable buttons to add to our blogs!)

And so, with my husband's blessing and with a newfound excitement for going-- ugly boot and all-- I am headed for Disneyworld. Ready or not, here I come!